Project quality plan is a document that covers all processes of a project life cycle in order to achieve the project quality objectives.
Before start of any project quality management department prepares a specific project quality assurance plan. The basis for the plan is the project requirements that come in the form of tender documents and project specifications.
A good project site quality plan will cover all aspects of the project i.e. from raw materials, execution, testing handover and after sales services etc.
Most companies use ISO 9001 as a basis for the development of their quality assurance systems and therefore that serves as a baseline to write a good project or site quality plan.
It is best to obtain the approval of project specific quality assurance plan before start of the project, this helps resolve any disputes and non conformance's during the execution of the project.
A well defined and approved site quality plan always helps project quality team to know what is applicable and what is not. This also helps keeping the client or consultant from asking additional or non standard requirements. Hence ensuring the cost of the project is always under control.
Sometimes it becomes difficult to prepare new site quality plan if t is not available in your company. In that case a good quality plan template can help you overcome the problem. Also it may be difficult to find a good template because in most cases you will find only outlines or table of content, not details.
Therefore we have worked very hard to prepare a standard construction quality plan template that is in fact a complete document.
Benefits of Construction Project Quality Plan Template
Now you can download complete construction quality plan that can be used for any project especially for construction site for quality planning purposes.
This is a complete document already covering all standard and industry requirements. Already used and approved by hundreds of contractors, clients and consultants.
It is time saving, so you can impress your boss or client by submitting a professional document within no time.
Easy customization, just add headers, footers, logs and your company information and submit for approval.
All forms and formats are included, therefore no need to develop the necessary formats & forms.
This project quality plan template will help you qualify for a tender and satisfy client requirements as well.
Most importantly if your company is ISO 9001:2015 QMS Certified then you must prepare one quality plan for each of your site which is mandatory from most clients/consultants.
Editable Construction Site Quality Plan
The project quality assurance plan document which we are providing on our website is in editable Word & Excel formats. Therefore the changes are very easy, just add your company logo, name, project name and specification reference etc.
The project quality assurance plan contains all procedures in detail for performing routine activities.
Some of the procedures in quality plan include:
Material Submission
Drawing Submission
Work Inspections
Request For Information
Material Inspections
Document Control & Numbering
Control Of Records
Meeting Schedules
Minutes Of Meetings
Resource Management
Corrective Actions
Preventive Actions
Procurement
Store Operations
Training
Internal Auditing
Operational Control
NCR Control
Monitoring & Measurements
& Many More …..
In addition to the standard procedures, the quality plan template provides all forms and registers that you shall need during site quality control. Some of the forms include:
Minutes of Meeting
Document Transmittal Form
Material Submittal Form
Work Inspection Test Request
Material Inspection Report
Inspection Request Log
Change Request Form
Request for Information
Non Conformance Report
Confirmation of Verbal Instruction
Corrective Action Request
Monthly Project Quality Report
Request For Concrete Supply
Document Distribution Sheet
Material Inspection Report
Measuring Devices Register
Check Sheet Excavation For Structure
Check Sheet Concrete
Concrete Pour Card
Inspection Schedule
Method Statement Template
ITP Template
Trend Notice
Contract Trend Notice Register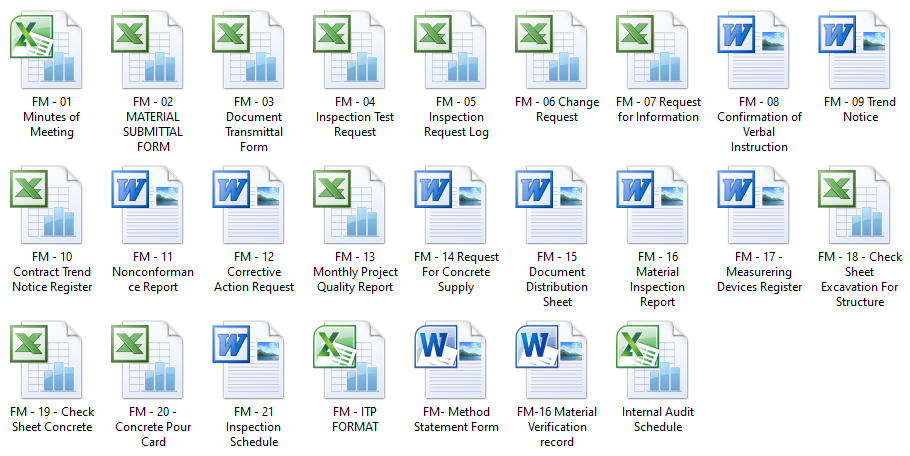 How To Get Complete Project Quality Plan
We are offering complete Project Quality Assurance Plan & Checklists in a package which contains MS Word & Excel Files of main Quality Plan and all the formats mentioned above on a very nominal fees of $9.99.
You can download construction project site quality plan from a link in your email, immediately after the successful payment.
---
---
---
---