This method statement provide details and procedures which will and is to be followed for the successful construction of concrete plinths for the Blowers, Backwash Pumps and Transfer
Pumps in the Machine Room.
The Supervision of the installation will be done by the Site Manager and Inspection by the Quality Inspector.
The Labor for the installation will be done by an installation team which will be appointed by contractor.
DESIGN AND APPROVALS
The Mixing design of the Concrete will be approved for construction by the Client Representative.
The Construction Drawings will be approved for Construction by the Client Engineering Representative.
PLINTH INSTALLATION PROCEDURE
The complete Installation Procedure should be done as follows;
Preparation and Reinforcing Installation:
Mark out plinths onto position in Machine Room. Confirm there are No clashes with existing drainage eyes and existing reinforcing as per as-build drawings received.
Scabble existing concrete surface to remove laitance layer.
Core/drill dowel holes, check depth, clean all concrete. Dowel drill holes not to be drilled through existing reinforcing. Use a drill bit which cannot drill into steel to prevent breaking of reinforcing.(hold point)
Epoxy in dowels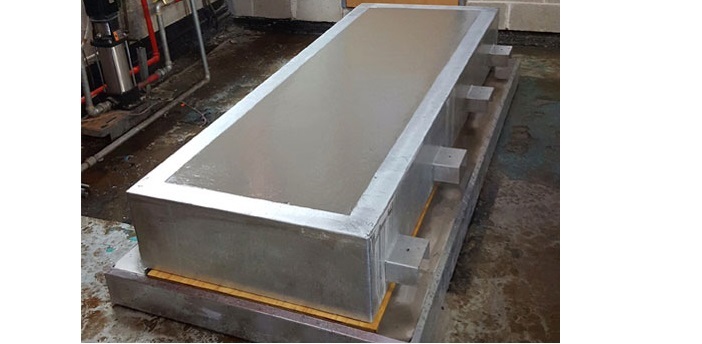 Wet existing concrete surface on which plinths are to be cast, and keep wet for 24 hours prior to casting.
Erect shutters and chamfers, fix steel, clear wire clipping (hold point)
Casting of Bases:
Slump test: Conduct a Slump test at the supplier facility before Batching of concrete (hold point)
Batch concrete will be transported to site.
Take sample for test cubes before casting. 6 off cubes will be taken. 3 off for strength testing after 7 days and 3 off after 28 days.
Remove standing water from concrete surface.
Cast concrete by using a concrete pump in order to reduce wastage around site, and vibrate.
As soon as is practical, float top of concrete.
Apply curing compound or wrap in plastic (hold point)
Once shutters are removed, cure newly exposed edges.
Curing, Testing and Workability:
Curing to continue for 5 days after casting
Cube testing to be done after 7 days to ensure at least 20MPA strength
If strength at 20MPA after 7 days, Installation on the plinths may continue. Delay installation onto plinths as long as the program allows to ensure highest possible strength before installation.