Table of Content
Purpose
References
Insulation Material
Storage Of Materials
Preparation Of Insulation
Insulation Procedure
Final Acceptance
Inspection Procedure
1. Purpose
The purpose of this method Statement is to describe the execution procedure for the supply and installation of Hot & Personnel Protection insulation works of Piping, Valves and Flanges.
This method statement provides the necessary support to the execution team with relevant information regarding the specific project requirement and a guide line for a procedure to work safely.
2. References
Project mechanical specifications
Quality Plan
HSE Plan
3. Insulation Materials
Material Approval
All Insulation materials shall be approved by contractor/consultant/client prior to use and in accordance with the project specifications.
Material Receiving Inspection
Material shall be received by subcontractor's supervisor and shall be checked for following:
Packing and Damage during transit.
Specification and Grade. If applicable.
Quantity and Batch No.
Manufacturer test certificate.
Material Safety Data Sheet, if applicable
Mineral Wool Preformed Pipe Section
The preformed pipe section of density 135 kg/cum which shall conforms to ASTM C547, Class 3.
All the material shall be suitable for use up to 650ºC operating temperature.
The pipe section shall be used up to 24" diameter pipe lines.
Insulation thickness up to 100mm will be used as a single layer & above 100 mm to be multiple layers.
Mineral Wool Blanket / Mineral Wool Slabs:
Mineral wool blanket of density 135 kg/cum or mineral wool slabs of density 135kg/cum shall be used for pipe sizes above 24" diameter.
The blanket is made of molten mineral with binder and has on one side stainless steel 304 wire mesh (wire diameter 0.7 mm to 0.9 mm) with 25 mm hexagonal pattern.
Density of blanket is 135 kg/cum which shall conforms to ASTM C 592. The insulation materials shall be suitable for operating temperature up to 650ºC.
Insulation thickness up to 100mm will be used as a single layer & above 100 mm to be multi layer.
Cladding Materials (Piping):
The surface cladding shall be made of Aluminum Alloy, A3003, temper H14 with Polysurlyn moisture barrier and exterior clear coat.
The thickness of the Aluminum Alloy 3003 cladding sheet shall be 0.8 mm.
Banding, Seals and Wires:
SS 316 Wire of 1.2 mm thickness shall be used for securing the Mineral Wool Pipe section and Blankets up to insulation diameter of 200 mm. Above 200 mm, the insulation shall be secure with SS 316 bands of size 15 mm x 0.5 mm thick.
The banding is secured with the suitable required SS 316 wing seals.
Ancillary Materials
SS 316 Self tapping screw of 4.8 mmX12 mm long slotted pan head with neoprene washer shall be used for securing cladding sheets for fitting covers.
SS 316 pop rivets of size 4 mm X 10 mm shall be used for fixing toggle clips to the boxes for valves and flanges and also for fixing the metal clips inside the boxes for valves and flanges.
Toggle clips are quick release type of SS 316 of 1" size and shall be used to connect two halves of the removable boxes of valves and flanges.
Sealant:
TIC 7030 or FOSTER 95-44 shall be used as metal sealant at all possible source of moisture penetration for the insulation system having temperature resistant up to 121ºC and between the direct contact points of jacketing with hot metal surface.
4. Storage of Insulation Materials
All the material shall be placed /stored in safe custody of contractor.  It shall be the responsibility of the store supervisor to guarantee the flawless storage of the material for the hot insulation.
All materials required for offshore works shall be transported and stored at the required platform without any damages.
Condition of storage
The storage of the material shall be stacked properly such that all the materials are easy accessible.
Materials shall be protected against all adverse environmental conditions such as sun, humidity, moisture, rain, dust, sand, salt air, salt spray and seawater.
Mastics, sealants, adhesive, remain in original packing, storage according to manufacturer's instructions; temperature sensitive materials shall be stored in closed roofed air conditioned containers/warehouses.
Hardware such as Screws, rivets, strap etc. should be stored in intact transport boxes inside a closed room.
Temporary Storage of Insulation Material
For temporary storage of material, it shall be covered with tarpaulin and Hard Barricade to avoid any damage.
Removal & Disposition of Insulation Material
Insulation materials (including ancillary materials) after usage shall be removed and shall comply with applicable national and local regulations for health, safety and environment.
5. Insulation Preparation for Work
Release for Insulation Work
It is the responsibility of the Client to release surfaces which are painted and prepared for piping insulation.
Prior to start with insulation a visual inspection will be carried out and any loose rust/debris will be removed.
Surfaces shall be insulated only after the pressure testing has been done by the Client.
All mechanical works, testing must be completed before releasing the pipe lines for insulation works.
All the area prior to start of insulation shall be officially released for that purpose.
This is to ensure that all mechanical works (incl. Pipe support), painting & electrical heat tracing (if applicable) has been completed and pipe is released for insulation activity.
No Insulation activity shall be started without release note that shall be issued prior to start the insulation work.
Surface Preparation
Surfaces to be insulated shall be absolutely clean, free of oil, grease, dirt & moisture.
6. Piping Insulation Procedure
The total process consists of surface check, fixing of insulation materials, securing and cladding activities. This procedure covers stage wise activities including quality control check for insulation work.
A controlled copy of manufacturer product data sheet and method statement shall be available at the site throughout the duration of the project.
Whenever insulation work shall be interrupted, the insulation spot shall be protected with polythene sheet to avoid ingress of any moisture.
The following item shall not be insulated, unless otherwise noted on the drawings
Code Inspection plate
Drains
Dummy Supports
Flange (operating at 300ºC and below in non-hydrogen service)
Flange in Hydrogen Services (all temperatures)
Gauge
Internally Insulated Piping and Vessel Components
Nameplates
Pumps
Pressure Tapings
Rotating Equipment's  (except steam/gas turbines and boiler fed water pumps)
Stampings
Steam Traps
Strainers
Thermowell Bosses
Unions (except instruments line unions)
Valves (operating at 300ºC and below)
Vents
Refractory lined equipment and piping (even if safety insulation is specified elsewhere)
Rotating equipment (except steam/gas turbines and boiler feed water pumps)
Steam discharge lines (discharging to atmosphere or closed systems)
6.1 Piping Insulation
Insulation work on any particulars pipeline shall be commenced only after obtaining authorized release from concerned authority in writing.
All surfaces to be insulated shall be cleaned free of oil, grease and all other foreign matters and it has to be dry at the time of insulation application.
Preformed mineral wool pipe section on pipe lines up to 24" NPS will be used. If pipe line is over 24" NPS, mineral wool blanket with SS304 wire mesh on one side or slabs will be used.
Insulation material shall be applied in minimum number of layers as required in the specification.
When the insulation thickness required is above 100mm, the insulation shall be applied in two layers.
Single layer pipe insulation shall be applied in a staggered circumferential joints arrangement.
Multiple layers pipe insulation shall be applied with all joints staggered.
The circumferential joints of multiple layer insulation system shall be staggered 150mm from the circumferential joints of any adjacent succeeding layer.
Single layers Insulation shall be secured with SS 316 wire of 1.2 mm thickness up to insulation diameter of 200 mm and with SS 316 bands of 15 mm X 0.5 mm insulation Dia above 200 mm.
Multiple layer insulation shall be secured with SS 316 Wires in the inner layers for all pipe sizes.
Wire and band shall be spaced on 300mm maximum centers. Securement of fittings shall be as required to hold the insulation segments together tightly, but as a minimum each end shall be secured.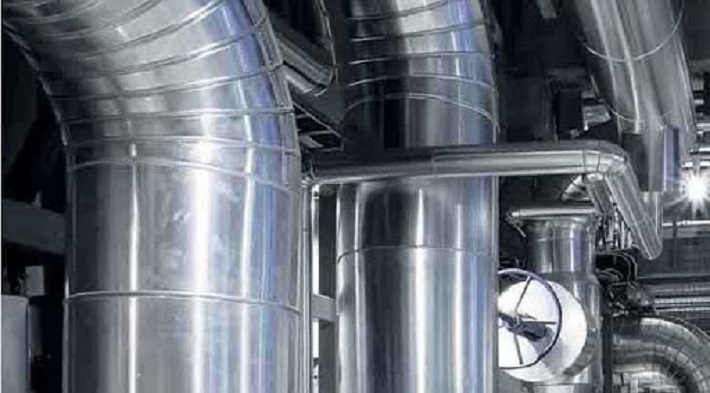 Blanket shall be tightly butted. Any open joints, irregularities or voids the insulation shall be filled with loose mineral wool to ensure a full and continuous insulation thickness required.
Insulation adjacent to flanges in pipe work shall be allowed to removal of bolts without damage to the insulation.
Minimum free space from the flange to the nearest part of the Insulation shall be equal to the bolt length + 25mm.
Ensure insulation does not pose risk to operators hand while turning valve handle.
6.2 Insulation of Elbows Valves and Flanges
Same insulation material as used on the adjoining pipe line shall be used over elbows after fabricating in required shapes.
All insulation segments shall be secured by SS 316 binding wire of 1.2mm thickness. Gaps/holes shall be filled with the same insulation material.
Insulation boxes fabricated of Aluminum Sheet of 0.8 mm thickness removable type insulation covers shall be fixed over all flanges and valves. The boxes shall have stainless steel latches.
The insulation shall be of the same type and thickness as the adjacent pipe or equipment insulation. Insulation shall be installed in such a way so that no gaps exist at the joints when the box is closed.
Weather Proofing Application
The surface cladding shall be made of Aluminum Alloy, A3003, H14 with Polysurlyn moisture barrier and exterior clear coat.
The thickness of the Aluminum Alloy 3003 cladding sheet shall be 0.8 mm.
On round pipe, the cladding shall be cut to size rounded and placed concentric to the pipe with overlap of 50mm on both longitudinal and circumferential. Overlaps shall be staggered.
The cladding shall be secured with SS 316 Bands of size 15 mm x 0.5 mm thick spaced on 300 mm maximum centers.
Metal jacketing over vertical pipe shall be supported on 100mm long S-clip (to be fabricated at site).
The clip shall be equally spaced with one clip at overlap. The  minimum number of S-clip shall be two for pipe sizes up to and including 150mm diameter, and four for pipe size over 150 mm diameter.
The fitting covers shall be tightly fastened with SS 316 screws on 75 mm maximum centers.
Overlaps shall be 50mm wide and arranged to shed water.
Where it is impractical to maintain 50 mm overlap, the overlapped jackets shall be secured together with screws spaced 75 mm centers.
Each end of fitting covers shall be banded with SS 316 bands of 15 mm x 0.5 mm thick.
A water tight metal termination cover shall be installed where pipe insulation terminates on permanent basis.
Overlaps of the cover over the adjacent metal jacket shall be secured with sheet metal screw installed on 75 mm centers.
Flashing compound shall be applied at all possible sources of moisture penetration.
All cut outs /gaps, overlaps, joints shall be sealed with metal sealant.
Inspection & Acceptance Procedure
Inspections shall be based on approved inspection and test plan ITP.
Upon final acceptance of the metal cladding, contractor shall issue an inspection control sheet form for the relevant Pipe lines and equipment's.
The inspection of the insulation system shall be during the following stages:
The insulation shall be applied in accordance with good industrial practice and when finished shall have a neat and workman like appearance to the satisfaction of the consultant.
At the time of material receipts.
Before applying the insulation.
During application of insulation.
Before and during application of weather proofing.
After completion of weather proofing application.
Ensure materials are protected from being damaged by moisture, temperature, wind or any other atmospheric factors.
Verify that surface to be insulated is clean and dry as required by specification.
Verify that the materials applied are the same as they specified or approved materials.
Verify the insulated item and insulation code are same as marked in the P&IDs and related drawings.
Inspect the insulation support for correct location, type, width and length if applicable.
Verify that the insulated surface to uniform without gaps and voids.
Verify that the joints of insulation segments are properly staggered and tightly installed.
Ensure that the insulation is clean, dry and fit for its intended purpose before weatherproofing is applied.
Inspect size and direction of metal jacketing overlaps.