This project method statement describes the construction methodology and procedures amidst other details for the actualization of the summary task i.e. site preparation in respect of the subject project for the Engineering, Procurement, Installation and Commissioning (EPIC) of project building.
This Method Statement is however to read and applied in conjunction with Job Safety Analysis and the approved Project Quality Health and Safety Plan.
Health and Safety Requirements
Relevant Material Safety data Sheet (MSDS) shall be retained on Site in custody of the HSE department.
All activities would be undertaken in accordance with contractor and client health and safety manual.
Work Permit would be obtained (when required) prior to commencement of work on site.
All necessary PPE would be provided and used accordingly at all times.
Below is the list of identified residual health and safety hazards
Manual Handling
Use of power Tools
Working at height
Slips, trips and falls
List of References/Supporting Documents
Project Approved Drawings
Site Plan – Drawing
Mobilization Plan – Drawing
Project HSE Plan
Attached Job Safety Analysis (JSA No.)
Project Standard Specification for Civil Works
Relevant British Standards
List Of Key Materials required
Earth Filling Material
Wire fasteners
Tension/Supporting Wire
Steel Mesh fabric and
Steel Post Rods
Tools Plants & Equipment's
All Plant, machineries, tools and equipment's would be inspected on each occasion before it's used and in accordance with manufacturers and statutory requirements.
If any defects are identified, the equipment shall be taken out of use and replaced.
Contractor is also aware of the potential health hazards posed by hand arm vibration (HAV) and whole body vibration (WBV) and would ensure application of relevant safety measures as at when due.
| | | |
| --- | --- | --- |
| Tools | Plants / Equipment's / Machinery | Other Essential Equipment's |
| Hammers | Trucks | Podium Steps |
| Steel Cutter | Roller | Inspection lamp |
| Pliers | Grader | Fire Extinguisher |
| Sprayers | Concrete Vibrator | First Aid Kit |
| Spanners & Screw drivers | Concrete Mixer | Clamps |
| Chisels & Stanley Knife | Hand Held Jack hammer | Safety Signage |
| Files & other small tools | | |
Roles and Responsibilities
Project Manager would be responsible for Co-ordinating between client, consultant & subcontractor for design and execution of project.
Site Engineer and General Foreman shall be responsible shall be responsible for the implementation of this method statement under the professional guidance of the Project Manager, Technical Manager and QA/QC Manager.
The Project Safety Engineer would be responsible for advising, monitoring and ensuring that work execution comply with approved safety procedures.
Pre Requirements
Ensure approval and release of work area from relevant departments prior to commencement of work on site as required.
Prior to commencement of work contained herein, contractor shall obtain the relevant work permits from associated authorities.
Toolbox shall be conducted by the Supervisor.
Use of necessary PPE shall be checked and enforced by the safety officer. (Safety Glass, Safety Shoe, Helmet, Coverall, etc.)
Site Preparation and Mobilization Procedure
Earth Filling Procedures
Soil Test, Material Approval & Ground Preparation
Soil sample will be taken from the existing ground by Geotechnical Consultant and tested for Maximum Dry Density and Optimum Moisture Content as well as other relevant tests complying with procedures captured in Geotechnical Investigation Method Statement.
Contractor shall undertake the responsibility for clearing of site in order to remove any existing vegetation; steel, concrete, unused structure/elements identified for demolition, piping debris, loose windblown sand and other foreign materials as applicable.
Ensure all existing structures, foundations, etc. as captured above shall be entirely demolished, removed, transported and disposed off, to a debris yard or spoil heap designated by client or local authorities. All soft spots left shall be filled with suitable material and compacted as per specification.
Contractor shall take material approval for the fill material from client prior to transportation of materials. Rock fragments in excess of 100 mm, which may exist in fill materials, shall be removed by screening at site or by other appropriate method in compliance with the gradation limits indicated in standard specifications.
Suitable Earth Filling material prescribed by Geotechnical Consultant and approved by client for filling to makeup level shall be transported to site, stacked in heaps and placed in fill areas within work limits.
Mixing Spreading & Compaction
Water from approved source is to be added and mixed thoroughly such that the moisture content of the filling material is within ±3% of the Optimum Moisture Content if required as per Geotechnical investigation Results.
The mixed filling material shall then be spread in layers on the fill area by means of shovels and grader.
The first layer shall be in maximum of 200 mm thickness of loose materials and the subsequent layers shall be of 250 mm compacted thickness.
Spread fill material is compacted by roller with adequate number of passes to achieve the required compaction.
The compacted area shall then be tested for required Field Dry Density. Prescribed and approved fill material shall be compacted to a maximum density equal to 95% of Maximum Dry Density at OMC as determined by BS 1377 part 13 or to the density of the adjoining undisturbed material whichever the greater, in compacted layers not exceeding 550 mm.
Contractor shall take particular care in placing and compacting fill around protective membrane, pipes, cables as well as other exposed and underground structures as applicable to prevent any damage.
Grading & Cleaning
Earth filled areas not within routes shall be well graded and finished to specification.
Newly graded areas shall be protected against traffic and erosion.
All surplus soil and waste materials shall be removed and-disposed of, to designated locations as required.
Placing & Positioning of Prefabricated Site Office and Utilities;
The following outlines the procedures for construction of foundation base & steps
lifting, positioning & installation of Portacabin units as well as temporary services tie-ins as per approved Site Plan/Layout for Site Office, Security Office and Toilet spaces.
Erection of Site Office and Utilities shall commence only upon completion of the following;
Obtain necessary permit and approval to carry out works.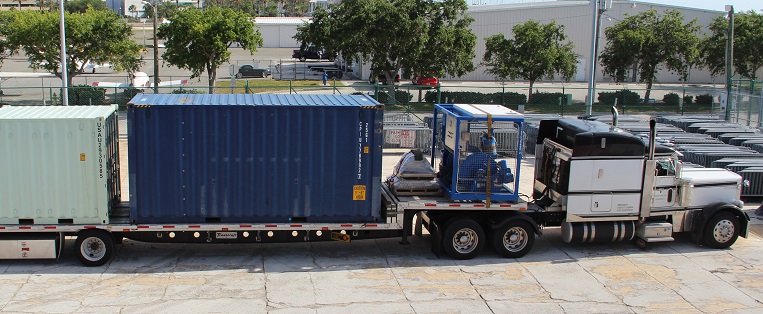 Prior to lifting operation, Safety Engineer shall thoroughly brief all work personnel involved with the lift as to their duties and responsibilities.
HSE department would ensure adequate safety provisions available.
Construction of Foundation Base and Steps
Required foundations shall be set out as per the approved Site Plan.
The foundation top level shall be transferred from established benchmark as applicable.
Excavation shall be done manually to a maximum depth of 100mm and to a width shown as per the foundation drawing.
Area to receive Blinding Concrete shall be prepared for blinding. Blinding Concrete shall be prepared at site using mixer machine.
Area to be concreted shall be protected with barrier.
Blinding Concrete shall be cured with potable water after casting.
Concrete blocks of approved quality shall be used for construction of base for Cabins.
Mortar for block masonry shall be 1:4.
Block work shall be filled with concrete to form a rigid base for Cabins if required.
Portacabin Lifting/Positioning & Services Provision Operation At Site
The crane operator shall be in possession of necessary licenses under the applicable Laws and regulations, third party certificate of competency for crane being used.
Qualified Rigger/Banksman shall be assigned to guide the offloading, lifting and positioning operation of Portacabin Units by the Crane Operator. No lifting operation shall take place without rigger.
Setting out and lay down of crane and outriggers shall be done. The base for out riggers shall be on a well compacted surface and shall rest on spread pads or level timber of sufficient width greater than the rigger foot.
All lifting tools and shackles shall be inspected. Wire rope, sling shackles shall have a valid test certificate for safe load & color coded.
Shackle shall be locked on the four corners of the cabin base.
Tag line shall be tied on the sling above the eye and shall be held by rigger to control the lift with the help of banks man.
Wind speed and direction to be noted by the rigger. No lifting shall take place under high wind, sand storm or during heavy rain condition.
Temporary cross bracings are installed to the cabin to maintain the cabin shape during lifting. Bracings shall only be removed once cabins are placed in position if applicable.
Clear distances shall be maintained between the cabin and various crane components.
Cabin shall be lifted and lowered on to the foundations.
Contractor shall ensure that the total allowable tonnage as per lifting capacity of crane is not exceeded. Boom length to be checked upon arrival. Third party certificate for crane shall be available.
All temporary offices/spaces would be installed in accordance with client's current codes of practice relating to Fire Precautions as per approved drawings.
Services connection/Tie-ins shall be into existing supplies for Power, Portable Water, Sewage Discharge and Drainage work.
A suitable size meeting room will form part of the site temporary office structure and will be available to all by arrangement.
Furniture, dedicated Mobile Phone, Printer, Photocopier and Email facilities would be provided for Site use as early as possible.
Erection of Project Sign Board
Design and erection of Project Sign Board shall be as per applicable standards and procedure.
Set out Project Sign Board as per approved drawings. Excavate foundation pit for Project Sign Board's Posts.
Place Sign Board in excavated pit and cast in place with concrete of suitable mix ratio and cure.
Back fill the disturbed ground as required.