Project manager or PM plays the role of team leader and represents the top management of the project team. He is primary point of contract from the other contractors and involved parties.
The completion and success of any project is ultimate responsibility of the project manager. Similarly the project team leader is the primary point of contact for government on all construction management issues.
PM is responsible for the overall management of activities related to the construction program, including the implementation of the quality health and safety programs. He is responsible for coordination of design activities in design phase and during construction stage, for planning, coordination and controlling of the project.
He will provide required resources to project team so the project is completed successfully, handles deployment of project personnel and other resources. He sees that all phase reviews have occurred and have been completed, that all comments have been satisfactorily addressed.
A good project manager will keep strict control over the project's progress and maintain that the project is meeting its goals.
He will resolve problems that cannot be resolved by the Site Manager and all his other subordinates.
PM is the person responsible for the planning, coordination and controlling of a project from inception to completion, meeting the project's requirements and ensuring that the project is completed on time, within budget, within scope and to required quality standards.
The project manager insures that all phase reviews have occurred and have been completed, that all comments have been satisfactorily addressed and that all forms and checklists have been completed by the appropriate personnel.
The PM is ultimately responsible for the project's adherence to the quality control plan and safety plan.
The construction project manager is responsible for supervising overall the project site and construction work in order to ensure that the requirements of the construction contract are delivered according to the plan specifications.
He provides regular updates to the project director and top management regarding the progress of construction work, provides direct supervision and scheduling of trades people, and is involved in arranging site inspections in conjunction with the project construction manager.
Below we are giving different project manager job descriptions that can suit different organizations.
Contractor On Site Project Manager Responsibilities
The Contractor's On-site Project Manager, will be the primary contact person at the site with whom client will interact on a daily basis under the contract.
The Contractor's On-site Project Manager will ensure that:
Appropriate resources are allocated to the project and balanced to ensure best value to client.
All cost tracking and reporting is carried out in a manner compliant with client's Contract Management Procedures.
All tasks are conducted in accordance with the site HSE requirements and project specifications.
The Contractor's field personnel should rely on head office support throughout the course of the project. The contractor's Vice President and on-site Project Manager will become and remain
personally involved until each problem is resolved and appropriate corrective measures are implemented. They will typically communicate at least once daily on the progress of the project.
The Project Manager will be present on the job site, to ensure that the project is progressing as scheduled.
The On-site Project Manager is responsible for implementation and support of the Contractor's quality plan and will oversee all aspects of work under this contract for remediation at the site,
including:
All procurement activities.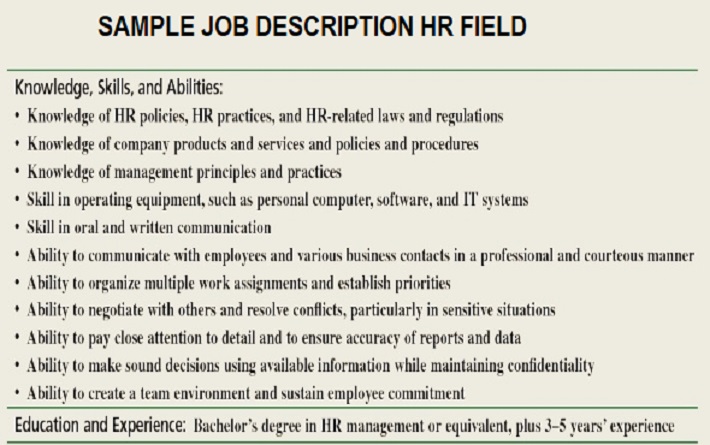 Qualified Contractor and subcontractor resources are assigned to the project and balanced to ensure jobs are aligned with project needs.
The Site is maintained and secure.
All tasks are carried out safely and in compliance with the project specifications.
His responsibilities include:
Contractor coordination.
Acting as site liaison between the subcontractor and client.
Maintaining charge of all field operations.
PROJECT MANAGER JOB DESCRIPTION SAMPLE
Reporting to : Operation Manager / Area Manager / Project Director
Linked with :
Divisional Manager, Area Manager, Project Director
Procurement and Purchasing
Planning Engineers
Finance & HR Managers
Consultants, Sub Contractors, Main Contractors, Engineering manager, Construction Manager and Site Engineers
Level of Authority
Sign all correspondences and memos
Sign all technical submittals
Preparation and submission of all progress reports
Level of Contacts
Area Manager
Heads of departments
Suppliers
Subcontractors
Client / Consultants
 Basic Function, Scope, Duties and Responsibilities
A) Plan and execute the project within specified time frame and budget constraints by meeting contractual obligations and in accordance with company policies and procedures
B) Implement Quality Management System for all organizational and project activities
C) Implement adequate safety measures
D) Site coordination with all concerned parties
E) Implementing site program of work
F) Supervision of all site activities
 Qualification and Experience
A) Bachelor of Science in Engineering with a minimum of seven ( 10 ) years experience in related field
B) Local country experience is preferred
C) Leadership qualities
D) Well verse with QHSE Management System
E) F) Good English / local language
G) Good Communication skills
Project Manager Job Description for civil contracting company
Overall in-charge and responsible for the smooth flow of the project within Quality, Cost, and Time.
Project Manager is responsible to develop good liaison with the Consultant, Client and Govt. Departments. (Work Department, Municipality, Town Planning, Traffic etc.)
He should be well versed with Contractual documents and execution of the same in to project activities.
PM is responsible for approval of drawings, NOC, and other legal documents to get the building permit within the time frame.
Responsible for all legal documents of the site, like Insurance, Bank Guarantees, and Permits etc.
He is responsible for all Reports verification & Submission to all the respective Functional Departments as per the frequency of the proforma and any other reports required by the management / departments.
Working as in-charge for verification & finalization for quotation for Sub-contractors / Agencies for the project after consolation with the general manager or management.
He is responsible for getting the approvals for material, sub contractor, and other equipments required for the project by consultant and same should be procured from Purchase Department.
Will communicate with the Consultant / Client / Department / Internal Functional Department continuously regarding project progress of the site / office and follow up payments from their offices.
PM is responsible for the profitability of the project.
He is responsible for checking, monitoring and complying with the construction / material schedule programme and co-ordinates with respective functional departments regularly to ensure all materials are in place as per the progress of the project.
Project manager will guide and coordinate with all Technical Teams and Support Functional Teams at every stage, for smooth functioning of the project.
He is also responsible for total manpower planning of Staff, Labour and also their work allocations as per Project Schedule. Monitoring the employee performance and helping them to improve performance standards.
Project manager is responsible for ensuring quality as per the Project Benchmarks at every stage of the project. He is responsible to control wastage and optimum utilization of material, manpower and machinery.
He is responsible for all Planning, Organizing, Deployment & Accountability of Capital Assets and all necessary Material Inventory of the Project.