This method statement explains and covers the installation & inspection of cast resin Transformers but can be useful for other types of transformers.
The electrical standard procedure can be used for any kind of construction project covering the electrical scope of work.
Overall project manager is responsible for implementation of method statement and relevant forms and checklists in coordination with project team of engineers i.e. quality, safety and site engineers including supervisors.
Arrange following tools and equipment before starting the work of transformer installation:
Measuring tape and setting out markers
Electric drill machine/hammer
Welding Arrangement if needed
Tool box / Power Tools
Fork lift/Crane
PPE for all staff and labor
References & Standards
Project specifications – General Requirements of Electrical Services – Transformers
Approved material submittals
Relevant approved shop drawings
Approved coordination drawings
Project construction schedule
Project QA/QC Procedures PQP
Project HSE procedures (Health and Safety Plan)
Health and Safety Precautions
Ensure adequate PPE is available for all personnel.
Make sure that only trained and competent personnel are involved in transformer installation activities.
Ensure work area is free from debris and all access/egress are obstruction free.
Check and ensure that the lifting equipment/gear suitable for lifting and moving the transformers.
All the lifting equipment shall be certified and having valid certificates / test reports etc.
Warning signs and indication shall be displayed in working area.
Safety signs indicating all the hazards involved shall be displayed as necessary.
Extreme caution shall be exercised in handling materials and equipment's in case of bad weather.
Quality Control Requirements
The equipment shall be inspected and checked against the relevant general arrangement drawings and approved material submittal.
Transformer shall be checked for any physical damage which may occur probably during the transportation/lifting. The transformer shall be stored in sheltered, clean and dry ambient temperature.
The characteristics of the Transformer detailed on the rating plate shall be checked to those of the shipping documents and with those of the test reports attached to the transformer.
Each transformer shall be checked for the accessories, rating, name plate details, protection devices, indicators & terminal boxes.
Compliance of comments raised during factory inspection shall be checked.
The presence of all identifying and warning levels shall be checked.
An inspection request shall be raised for consultant approval upon receipt of the transformer and accessories at site.
Sequence of Work for Transformer Installation
All material required at installation site shall be inspected, handled and stored properly.
Any discrepancies, damage etc., shall be notified and reported for corrective action.
Material found not suitable as per approved material submittal shall be removed from site.
Proper storage shall be provided as per manufacturer recommendation.
Weight of Transformer shall be checked and suitable boom lifting crane shall be used for placing of the transformer in its final location through existing opening / passage.
Installation Steps for Transformers
The area to be verified for the civil work that it has been completed and transformer installation work can commence.
Check area is clean for the positioning of lifting crane and transformers (as per approved sketch).
Extra precaution to be taken before lifting transformer, only manufacturers' recommended special lifting eyes shall be used.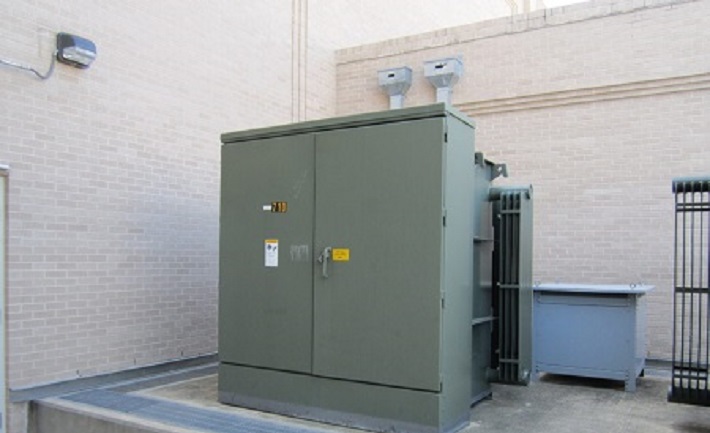 For lifting, the upper frame of the transformer lifting eyes for slings shall be used. Transformer shall be lifted with maximum sling angle of 60 degree as per manufacturer's recommendation.
If the transformer is complete with protection enclosure, roof shall be taken off to attach the slings.
Points of attachment shall be checked for cracked welds or loose nuts and bolts before lifting the transformer.
Guide ropes shall be used to prevent twisting or swinging of the transformer once it has been lifted clear of the ground.
Do not attempt to lift the transformers in high winds.
Transformer shall be placed down on the level surface capable of supporting its weight.
First stage, transformer shall be placed as per shown location by suitable mobile crane.
Second stage, transformer shall be placed on removable GI U channel at base level through existing opening by tower crane.
For locating the transformer in the final location, suitable lever on the special points foreseen on the lower frames  shall be used to act only and not on the magnetic core and/ or on the windings.
Transformer shall not be moved by pushing the coils and the connections.
After placing and fixing the transformer at its final location, cable supports, cabling and terminations shall be completed as per approved drawings and manufacturer's recommendation.
Installation of transformer shall be offered for client/consultant inspection.
Attachments:
Approved Drawings
ITP & Checklists
Lifting Plan
Risk Assessment
Quality Control Procedure for ADNOC Projects